This review contains light spoilers about the first major gameplay event about two hours into the experience.
Pentiment is the type of game that a subscription model like Xbox Game Pass enables. It's an ambitious project from a small group within a very established team that smashes together two genres and explores an era not often explored in gaming. I am so glad that I got to play Pentiment.
What is Pentiment?
Pentiment is the latest title from Obsidian Entertainment, the creators of great titles like Fallout: New Vegas, Grounded and the Outer Worlds. The game was written by Josh Sawyer, who has served as a designer/narrative designer and/or director on titles like Alpha Protocol, Pillar of Eternity, Pillars of Eternity II and more.
The game takes place in the 16th century in Upper Bavaria, where you play Andreas Mahler, an artist honing his craft in the small town of Tassing and the bordering Keirsau Abbey. The story starts moving when Andreas is asked to work on illustrating a very important manuscript for Baron Lorenz Rothvogel. This commission and many others have been instrumental in supporting them financially. The day after Andreas is moved onto the project, the Baron turns up dead, and it's up to Andreas to find the culprit to save a frail old friend who may have been set up.
Pentiment's storybook art style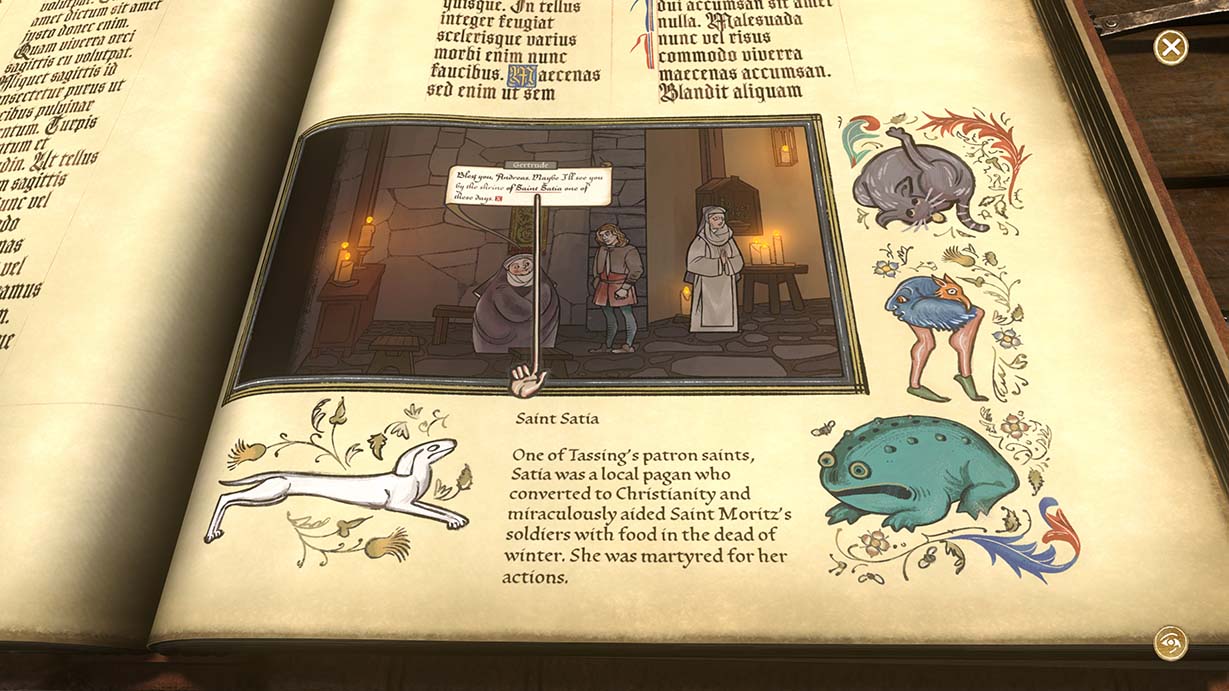 Before diving deeper into the story and mechanics of the game, I would be remiss if I didn't speak about the game's incredible art style. When you start the game, its main menu depicts a dimly-lit 3D environment with an artist's desk in the middle of the room. On the desk, you find a large book, one that you quickly dive into for gameplay purposes. Outside of that main menu, this game takes place wholly in that book.
Pentiment is a 2D RPG that looks just like a storybook. The characters, the environments and even the gameplay menus live and breathe this. The characters look hand-drawn, and their animations reminded me of "pull tab" images from pop-up books. The book aesthetic also permeates the menus. When you have to look at your map, another book is slid across your desk where you turn pages and flip out sections to see your journal, glossary and information about your character. The glossary, which helps you decode important historical context, is a feat. Certain words and phrases will be underlined in gameplay, and with the press of a button, the camera zooms out to reveal the additional context in the book's margins where the game takes place.
In Pentiment, your player character's backstory matters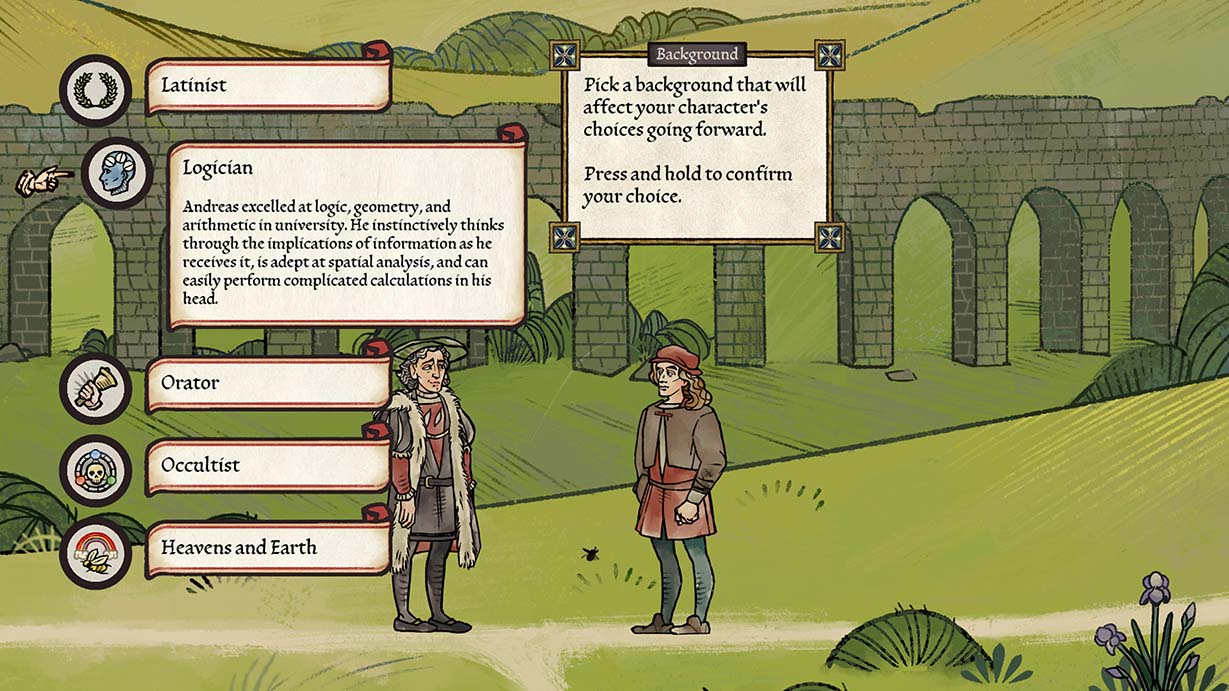 Like many RPGs, Pentiment allows you to select a backstory and traits for your character. However, instead of giving you skill points that you put into certain skills, these traits will allow you to access additional dialogue options and information that other traits may not. For instance, if your playable character previously travelled to Flanders as my character did, then they can understand Dutch and French. You can select a hobby and previous studies, each of which provides you with buffs that won't be initially obvious to you. The first fun consideration is that all traits are not created equal, and some will provide more benefits to you in the game.
In a second fun twist, not all of these options are beneficial to your character. In practice, your character will usually be given additional dialogue options, but they aren't always ideal for the situation. I chose a law background for my playthrough, and often, Andreas would come off as a know-it-all to the common folk and wouldn't get any further ahead with his knowledge of the complex legal system of the times.
The core gameplay of Pentiment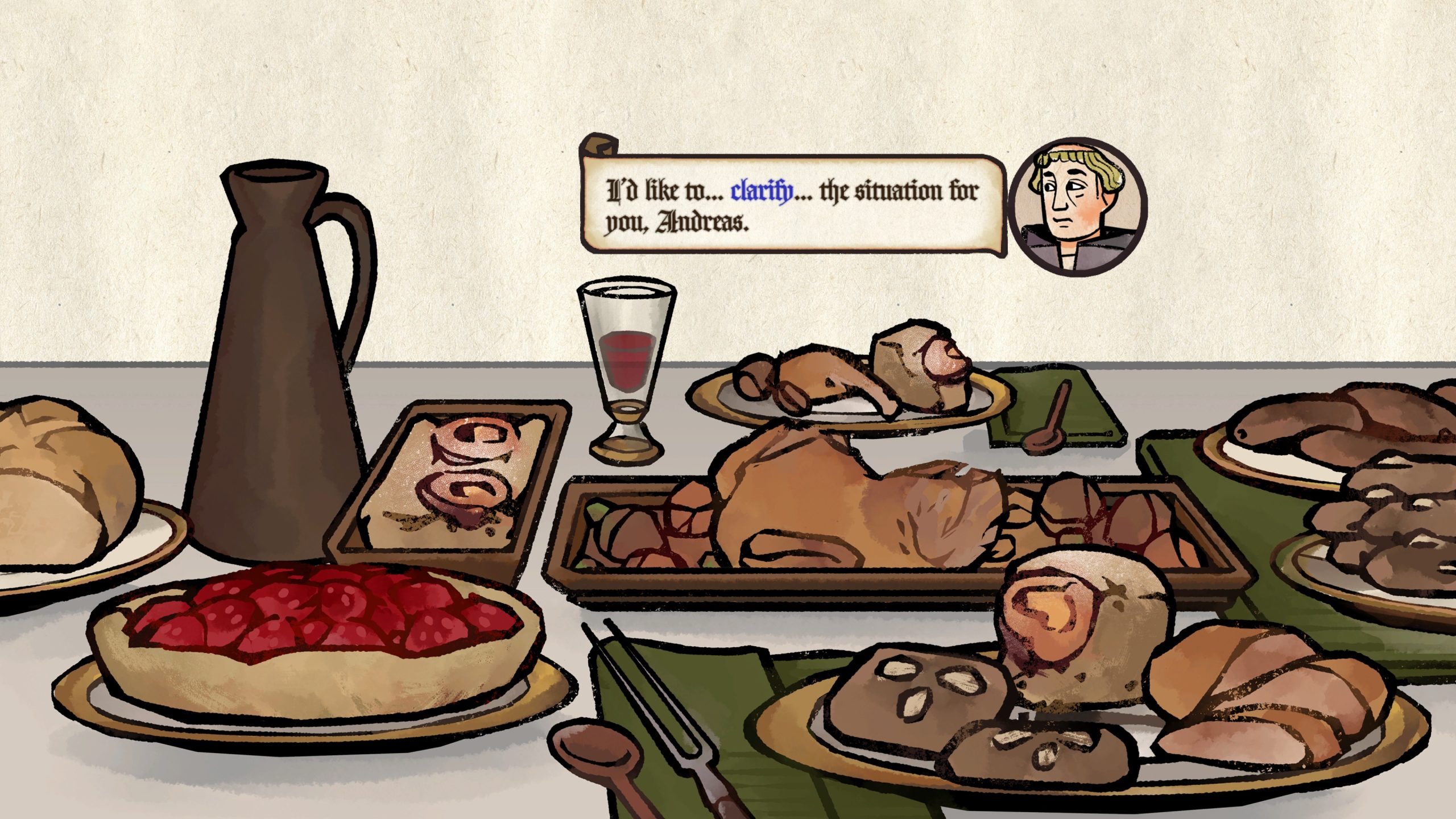 Simply put, Pentiment is an adventure game with RPG elements. Throughout, you'll be required to go around to different members of the local community to find out whether or not they had motives for the crime you're investigating. In another form of obfuscation, you have a time limit to obey, which means you may not get all the information required to make a flawless conviction. You may even miss entire culpable characters.
This is where the game shines. The small strike team at Obsidian put together a rich world full of interpersonal drama, struggles with taxation and social class and questioning of the church, to name a few of the threads that can be pulled here. Beyond talking to the characters in town to learn their stories, you'll occasionally break bread with townsfolk or help them to perform very simple tasks. The meals, in particular, are compelling. The types of food will change based on the socioeconomic status of your hosts, and some meals become gossip factories that may help you in your pursuit of justice.
The map is self-contained, and within a few hours of play, you'll know how to zip around to major landmarks. There isn't a fast travel system in the game, but it's not warranted as there are many characters to talk to and learn from between major landmarks.
The game is not for everyone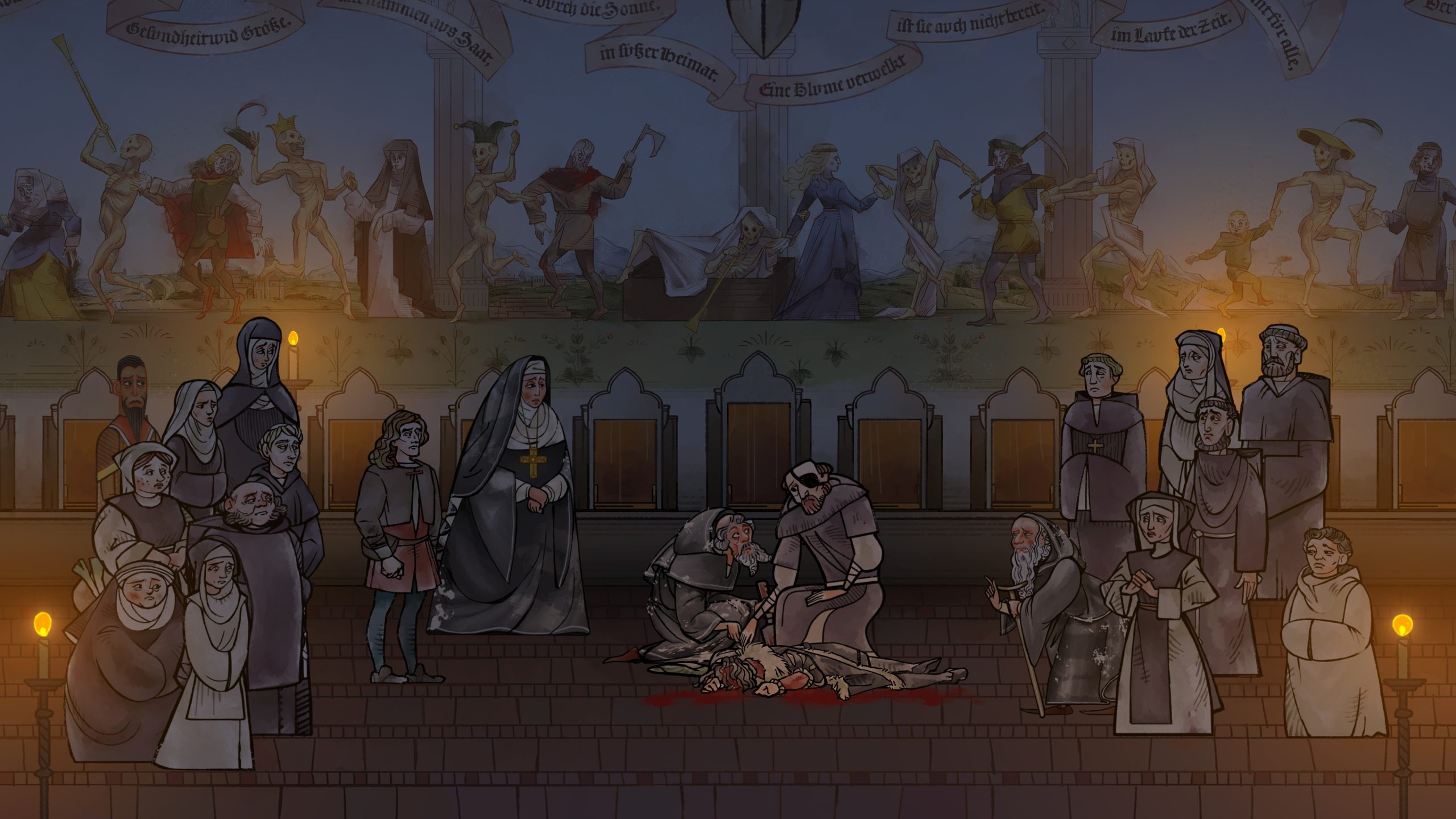 Even with everything the game has going for it, this won't be a game for everyone. Most of the game's core gameplay is focused on reading the dialogue with no voiceover, which may scare you away. Beyond that, this game has an incredibly slow start. It's understandable since the game needs to set in motion a very intricate 16th-century web, one where religion, social class, laws, economics, characters and locations are important – but it's worth noting going in. The juice is worth the squeeze, but I did find myself looking away from the screen occasionally in that first ninety minutes of this 12-20 hour title.
Final thoughts on Pentiment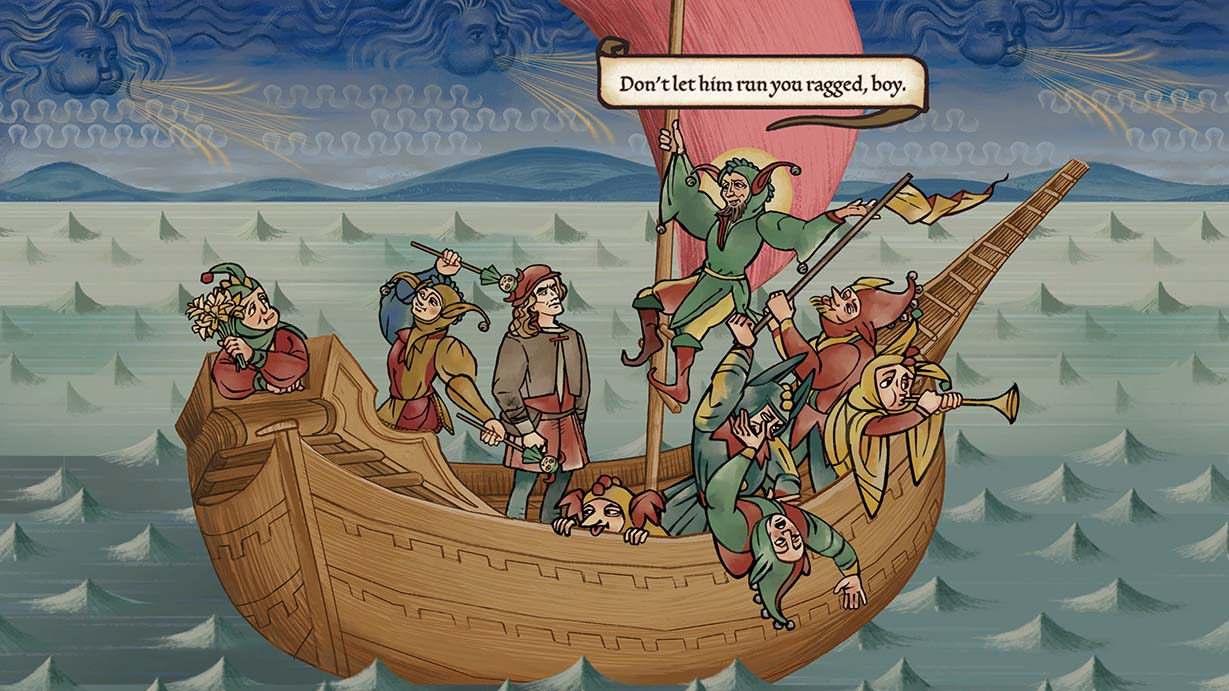 Pentiment is a really special game, and the crazy part is that we lived in a gaming world where ten years ago, a game like Pentiment probably wouldn't exist. Even though it came from one of the most storied RPG developers of the modern gaming era, it would never have been compelling enough for a pre-2010s publisher to bet on. Thankfully, the times are different…, and we are much better for it.
Although it was a tad slow to start, the dozen hours I spent with the game were well worth it. Josh Sawyer and the team have built out an adventure game in a unique setting while taking some of the conventions of RPGs to plus up the adventure game genre.
It's dense, so you'll likely not absorb every morsel of storytelling by Obsidian, but you'll surely come away from Pentiment having gasped at some twists and turns, found favourite townsfolk and learned a thing or two about 16th-century Bavaria.
---
Final Score: 8.5/10
Obsidian's Pentiment is a must-try if you have Xbox Game Pass. Its combination of adventure game/RPG mechanics and beautiful art style make it worth your time.
The review copy of this game was a digital code provided by the publisher.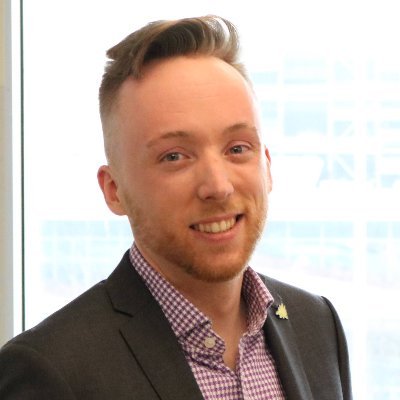 Jacob is a creator marketing professional, and a fan of video games. He produces the Left Behind Game Club and Cutscenes podcasts as well as Video Game Trivia on YouTube.