Mario + Rabbids: Sparks of Hope perfects the formula for this character/genre mash-up and may be one of the most surprising games of 2022.
What is Mario + Rabbids: Sparks of Hope?
Mario + Rabbids: Sparks of Hope is the second game in the series that sees Ubisoft's furry fiends, the Rabbids, come together with the Mushroom Kingdom's finest to take down a common enemy. At the start of this game, a foe named Cursa, who has ties to the first game, descends upon Mario, Peach, Luigi and their accompanying Rabbid counterparts. Within the opening section of the game, you come upon a new set of allies in the fight against Cursa: Sparks. These creatures, a fusion of Super Mario Galaxy's Lumas and Rabbids, become your companions as you travel across the galaxy. To power your galaxy travelling vessel and make it to Cursa, you have to collect Darkmess, which is an energy source produced by Cursa. Darkmess throws the world into chaos by wreaking havoc on the solar system's environments and weather, and it's up to Mario and the crew to make things right again.
This story doesn't stray too far from what you expect from a Mario RPG. However, much like the Mario & Luigi RPGs created by now-defunct AlphaDream, it's about the journey and the laughs you have along the way. This game is really funny. On several occasions, some of the dialogue made me grin from ear to ear. Beep-0, your companion from the first game and your ship's new AI, JEANIE, in particular, often have a very humourous back-and-forth relationship. Go in with low expectations about the central narrative, and you'll enjoy your time in the beat-to-beat narrative.
Mario + Rabbids: Sparks of Hope's Improved Battle System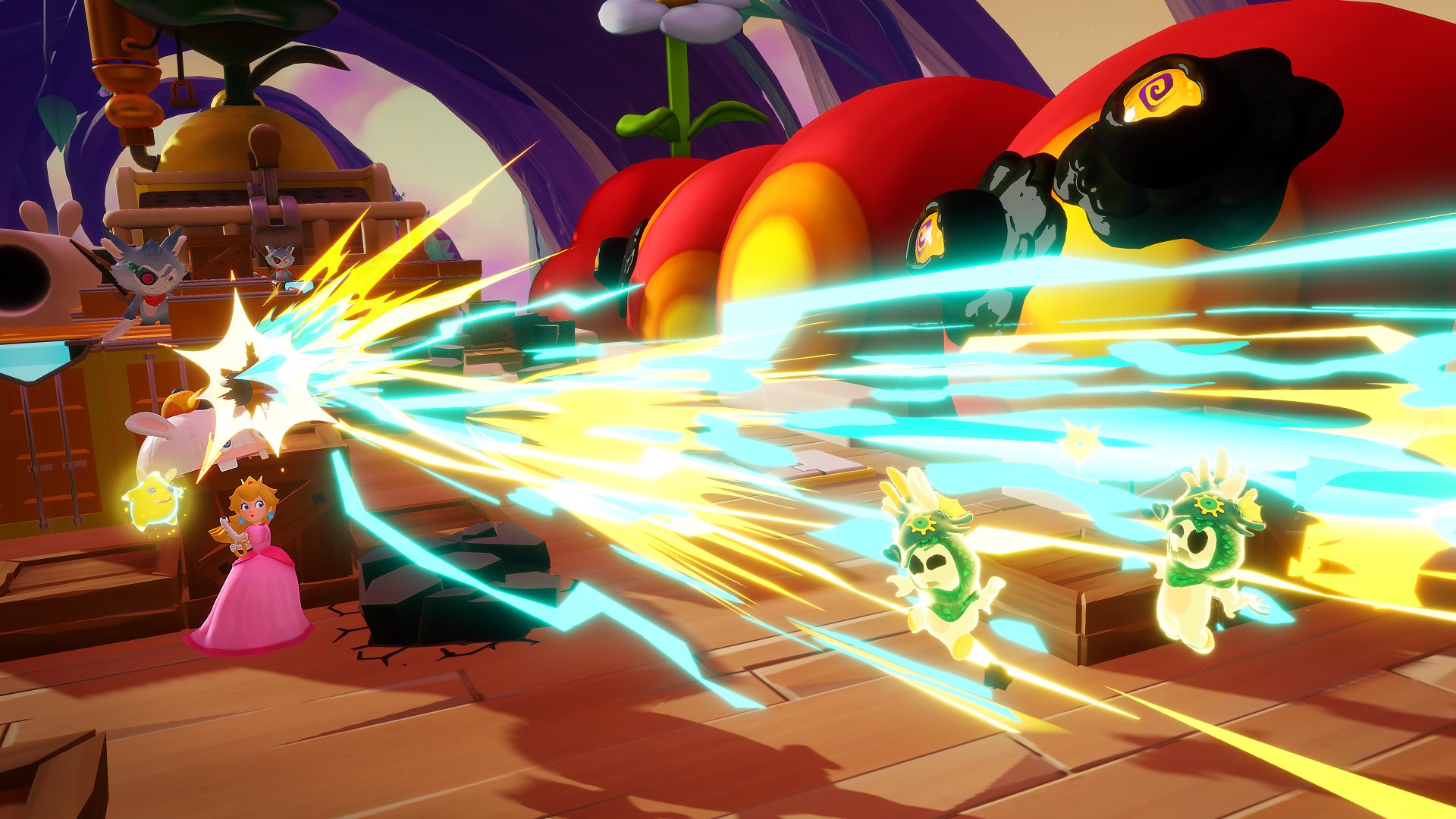 The game's quasi-turn-based RPG system is the sequel's show-stealer. There have been several changes between the first and second games in the series, and the most notable is the move away from a traditional tactics grid. In this title, your characters can move a certain distance from their starting position and continue to move until they use their weapon. This move alone makes this game a must-play for fans of the original title. It makes the battles feel much quicker and more dynamic.
This change allows you to move your characters more dynamically around the map. You may decide to move a character and leap a long way across the map to destroy cover or bring some of your allies closer for a heal. Some elements don't follow the turn-based nature of combat, however. If your character shoots a Bob-omb, for instance, you'll have a few seconds to choose how to deal with the situation. You can throw him off the stage, at an enemy or fully ignore him and let him blow up, causing collateral damage to everyone around.
Beyond the move away from the grid, Sparks also play a major role in customizing gameplay to your style. Each character can carry up to two into battle, providing unique abilities. From elemental attacks and weapon buffs to minions that play alongside you, you'll surely find Sparks that best fit your playstyle. You can also ditch Mario in this one. You're usually building teams of 3 based on a total of nine characters in the game. In the game, three of them are new to the experience, including Rabbid Rosalina (with a toy machine gun in hand), Bowser (complete with a rocket launcher), and the new original character Edge, who is a Rabbid with attitude (and a big sword to match). Eventually, the game will add Rayman in DLC.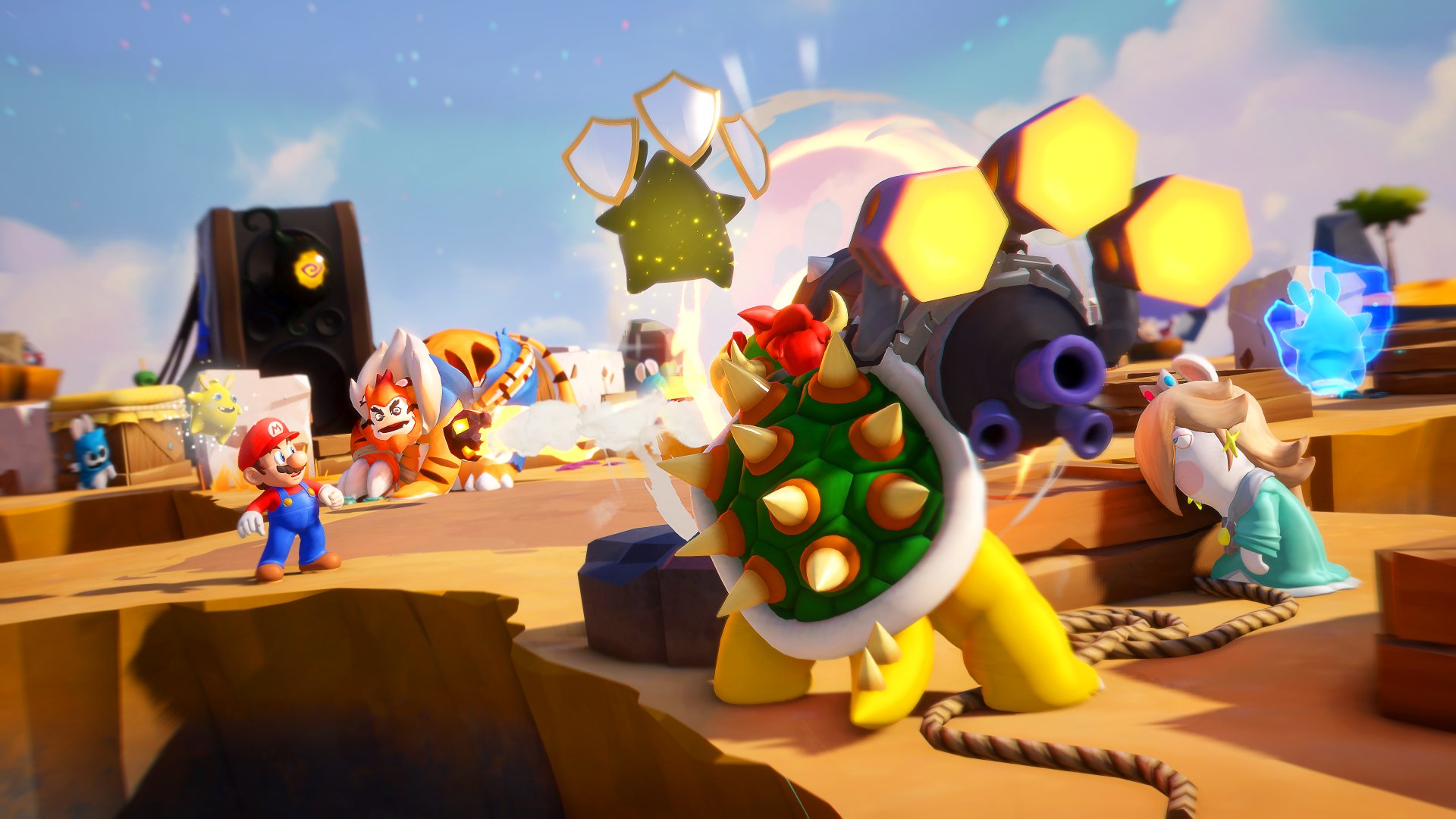 Another big leg up that this game has over its predecessor is the fact that each character has more variety in their weapons. Many of the characters' weapons in the first game felt very samey, but in comparison, each character in this game has a very distinct weapon with tactical uses and powers that bolster their strengths. Luigi is the master of long-range. Paired with his Steely Stare, he's the best person to cover your characters going in close. Rabbid Mario is a brawler who can do big damage. Paired with his Counter Blow and high HP, he can take a beating and keep on competing. Even Rabbid Luigi has very good tactical uses. His frisbee weapon and Exhaust ability can chip away at enemies. Paired with an elemental Spark, he can cause havoc on the battlefield. Purchasing weapon upgrades over time has been replaced in this one by a more comprehensive skill tree that helps your characters progress over time.
Moving away from talking about your team, there's a good amount of variety in the environments and enemies that you'll face. Some missions even put you in unique scenarios; you may be forced to use two characters that you typically don't rely on in potentially non-standard map placements.
The game's overworld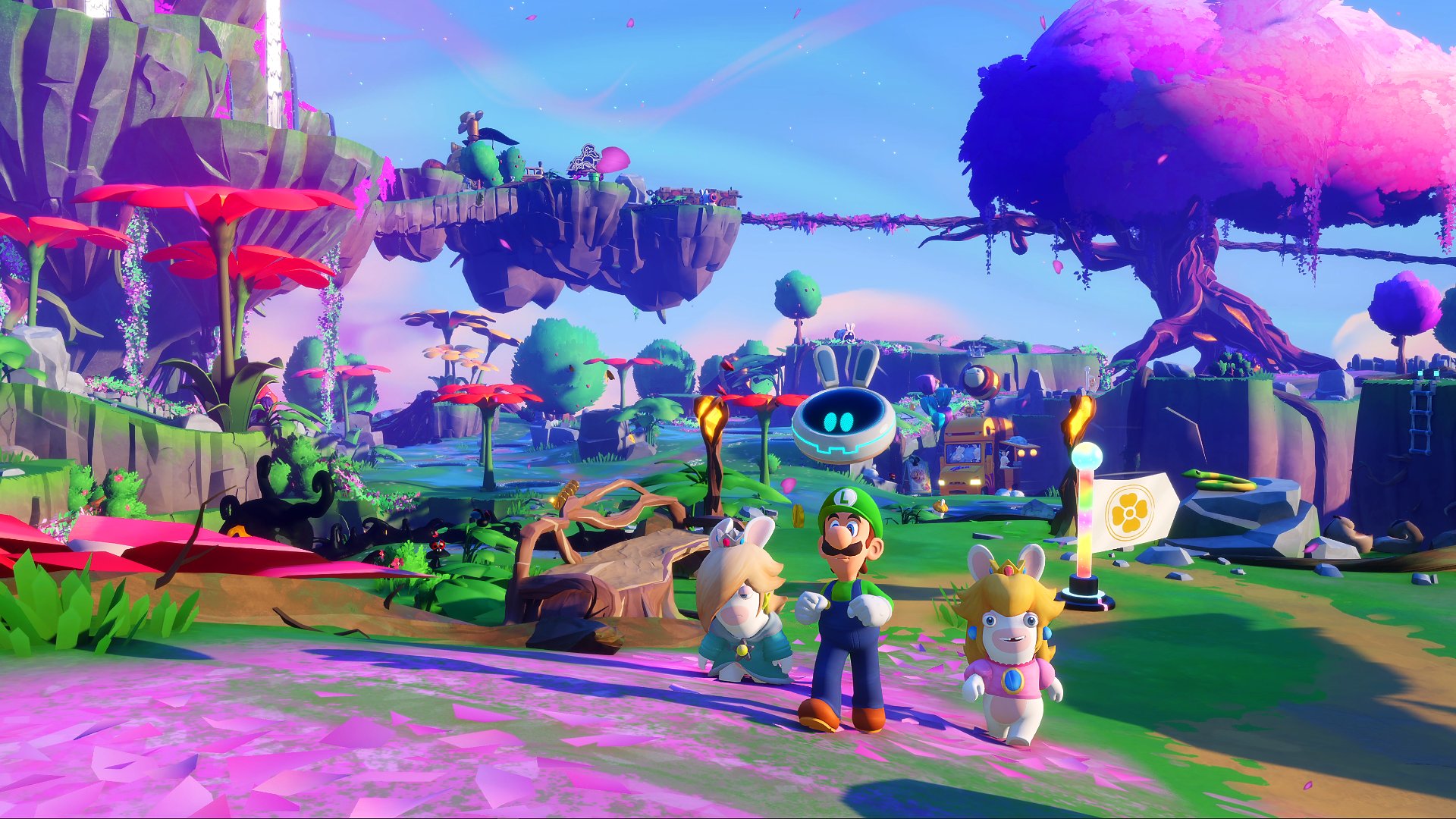 The game is split into a few major biomes based on the seasons. You'll travel from the beaches of Beacon Beach, representing the joys of summer, to the winter snow of Pristine Peaks. You'll get direct control of your characters in the overworld this time around, unlike the last game. You'll find enemies and NPCs walking around the world and enter battles like you would in many popular RPGs. Between these characters, puzzles and opportunities to explore these bustling seasonal worlds, there's a lot to do in the nearly half-dozen worlds that the game has to offer.
Much like Mario Odyssey, the overworld will be filled with tons of opportunities for you to do small, medium and large tasks for the NPCs for the chance to get Planet Coins. These collectables are unique to each major world, and they let you purchase items from Salesbot 9.99 + TX (see, I told you this game is cheeky). I'm typically a player that only completes a few sidequests, but found myself carrying out a good number of the side quests to spend more time in these lively overworlds.
Mario + Rabbids Sparks of Hope: Soundtrack of the Year
I would be remiss if I didn't speak about the music in the game. Yoko Shimomura, Grant Kirkhope and Gareth Coker have truly outdone themselves here. From the epic Prologue and Battle of Beacon Beach song by Shimomura to the many lovely overworld songs by Kirkhope and Coker, this is a game where you must play with the sound on, preferably with headphones.
Graphics
One small area where the game could be improved is graphical performance. The world design is top-notch, and the character art looks great, but this game pushes the Switch to its limits. In the game's overworlds, frame drops were common, especially when moving characters and the camera simultaneously. Battles with very large areas also tended to have minor frame rate issues. I tested the game in docked and handheld modes and a base Switch unit.
Wrap-Up
Mario + Rabbids: Sparks of Hope managed to turn a great series into an excellent one. The changes to the battle system will make you lose hours as you easily move your team into the best positions to take out a variety of enemies with a confidence that you could only dream of in the first game. The world's design, art and music are great, and the flaws are minimal. Play this game.
---
Final Score: 9/10
This game is a must-play for strategy fans and is one of the best games of 2022.
The review copy of this game was a digital code provided by the publisher.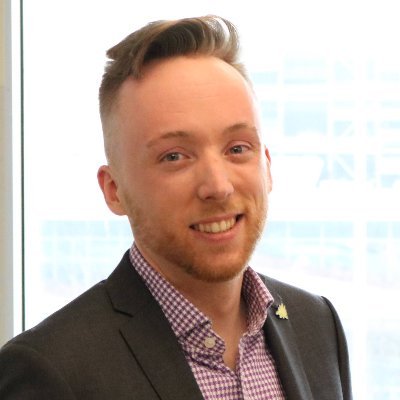 Jacob is a creator marketing professional, and a fan of video games. He produces the Left Behind Game Club and Cutscenes podcasts as well as Video Game Trivia on YouTube.